The Cody-Sheppard's Mountain Wedding at the Prestige Harbourfront Resort in Salmon Arm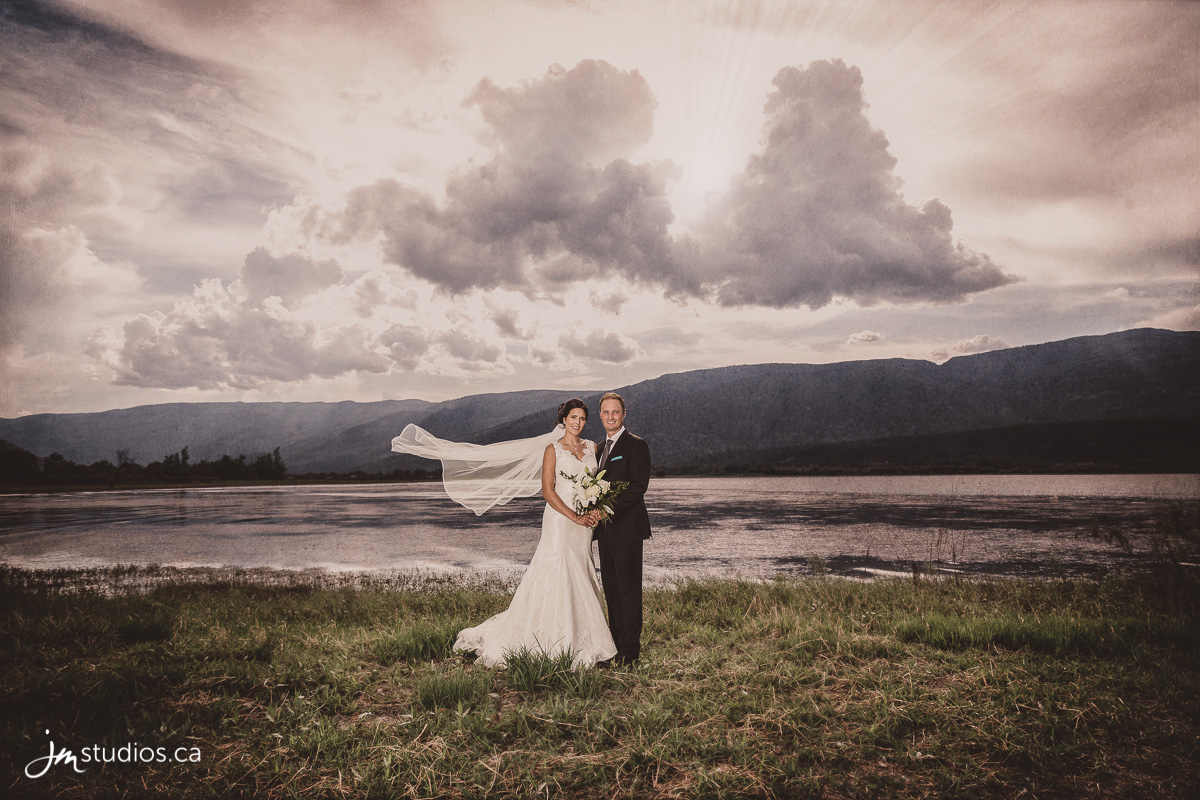 A Stunning Wedding on Shuswap Lake
Heather and Andrew got married out at the Prestige Harbourfront Resort in Salmon Arm, on August 4th, 2018. The area is special to Heather, who grew up spending her summers out at their cabin on the shores of Shuswap Lake. The cabin has been owned by Heather's family for three generations, so as the second generation to grow up at the lake, it was important that Heather celebrate one of the most important days of her life there. Also, her parents spent their honeymoon out at the cabin, so it was fitting that their daughter should get married in the same place.
We started the day by splitting up, one of us to photograph the guys, and the other to spend the morning with the women. When we arrived, the girls were having a snack together and wrapping up the makeup portion of their day. We snapped some beautiful shots of Heather getting her makeup done with her two sisters, Kim and Chelsea, who were also serving as bridesmaids for the day. The three sisters have a strong bond, and together with Heather's lifelong friend Toby, it was clear to see that the bridal party was a close-knit bunch.
Once we got Heather into her dress, her father Ken came to see her for the first time. The pride in his eyes when he saw Heather was incredibly touching. The first look was an intensely emotional moment for the family, and we felt blessed to be a part of it.
Before we headed out to the ceremony, we got a quick shot of Heather reviewing her vows before it was time to share them with Andy!
Their Ceremony at the Prestige Harbourfront Resort
Overlooking a natural estuary on the Shuswap Lake, the gazebos at the Prestige Harbourfront Resort provided a ceremony location with sweeping views of the water and the Bastion Mountains. The two gazebos covered the guests, offering solace from the warm sun in the Shuswap.
Andy entered with his mom, and after everyone settled in up front, Ken walked in with Heather, the beautiful bride. Officiant Richard Wale told the love story of Andy and Heather and led a fantastic service. The couple shared touching vows, Andy praising Heather's love of animals, and how it demonstrates what a kind an compassionate person she is. She has a desire to take in and shelter any creature that needs help, and he pledged to be by her side to help her for the rest of his life.
Heather then talked about how Andy came into her life during her mother's illness, at a time when she felt she had nothing to give to anyone else. He embraced her and the family and became instrumental in helping them during that extremely difficult chapter in their lives. She spoke to Andy's character, and who he is as a man, and why she feels blessed to be marrying him. There was so much emotion in the vows, and it was such a beautiful moment between two people who genuinely love each other.
The ceremony came to a close, and Andy and Heather were announced as husband and wife! We then exited out to a beautiful green space at the entrance to the Salmon Arm Wharf. This space offered a huge gazebo that was perfect for a massive family shot and some shady trees for the family photos.
The Creative Formals Outside at the Prestige Harbourfront Resort
We began the creative formals on the property, in an enclave of trees. There were several clouds of mosquitos plaguing the location, so we grabbed a few quick shots and moved away into the beautiful floral gardens east of the resort. After getting eaten alive, Heather caught a second wind when we moved into the gardens, so we lingered awhile to photograph the wedding party among the beautiful flowers.
Next, we took the group down to the pier, which holds the title of 'longest curved inland wharf in North America.' The wooden walkway served as a perfect location for shots of Heather and Andy as they strolled along the water. Afterwards, we let the wedding party go, and wandered down to the water's edge, where we set up a few lights to highlight the newlyweds against a stunning backdrop of the lake and mountains.
To wrap up the shoot, we used the gorgeous lobby of the Prestige Harbourfront Resort to stage a grand entrance, Heather walking down the staircase toward her new husband, train trailing behind her.
The Sheppard Reception in the Grand Ballroom
While we were away with the newlyweds, the guests were enjoying cocktail hour, with entertainment by emcees Todd and Gerard. The couple made their entrance, and dinner followed. The delicious buffet meal was provided by the fantastic team at the Prestige Harbourfront Resort. To choose the table order, the guests had to answer trivia to determine who got to go up next!
After dinner, we moved into speeches. Both fathers got up to speak, each giving beautiful toasts to the new members of their families. Andy's father spoke of meeting Heather for the first time, and how she complimented Andy's gentle and caring personality (which they say he gets from his mom)! Heather's father then gave his speech about his daughter, and how the characteristics Andy embodies fit in perfectly with their family as well.
Heather's sisters then stood up, delivering a hilarious story full of fun anecdotes that had everyone laughing. Chelsea, in her deadpan sense of humour, finished the speech by leaning into the microphone and casually saying, "The End." It couldn't have been more perfect.
Then the best man Matthew, Andy's brother, got up to speak. He remarked on how Andy had always set an example for him and has remained someone he looks up to. Andy also served as best man at Mathew's wedding, and Matthew remarked that if anyone was the 'Best Man,' it was Andy. He felt that based on Andy's example of such a strong and stable person, Matthew himself was quite possibly falling short of the title.
Andy finished up the speeches by thanking everyone for joining them on their special day, and then it was time for slideshows. Andy's brother-in-law Tyler, Kim's husband, put on an excellent slideshow with a great mix of music, to tell the story of Heather and Andy, and their childhoods. We then followed up with our same day slideshow of the creative formals.
Then, we moved into the first dances. Heather and Andy began their dance together, and halfway they broke off into a mother-son/father-daughter dance. DJ Jesse of Common Sound did a phenomenal job, playing great music all night and proving he knows how to read a crowd. As the night progressed, two dancing groups emerged: one comprised of Heather and Andy's personal friends and the other of Heather's cousins on her mother's side. They were up all night with such high energy, just having a great time and enjoying life.
We finished the evening with a few more photos before leaving the group to dance until the lights came on.
We had a marvellous time at Heather and Andy's wedding, and feel blessed to have been a part of it. We hope they love and cherish their images!
Online Gallery
An online gallery of all their images is available for the next 90 days. From the online gallery you are able to favourite images, order prints and share the gallery with your family and friends. The gallery can be accessed via the link below and you can contact the couple directly for their secure password.
The Cody-Sheppard Wedding Day Slideshow
Above you will find the Wedding Slideshow that we created from a selection of the best edited photos that we captured on their special day.
Additional Blog Posts for Heather and Andy
In addition to their incredible wedding day celebration, they also have other blog posts you can enjoy. Click the links below to check out those posts.
Learn more about our studio
JM Photography offers Calgary brides the very best in wedding photography! Our unique style and best in class experience is one of a kind. Each wedding is treated with the greatest of care and creativity, resulting in breathtaking imagery. We also offer Calgary newborn photography, capture maternity sessions as well as family portraits.
We are one of the top studios in Western Canada, servicing the Calgary area, including but not limited to, Canmore, Banff, Cochrane, Chestermere, Airdrie, Lethbridge, and Red Deer. We also offer coverage in Edmonton, Vancouver and to destinations worldwide.